Sponsorship Opportunities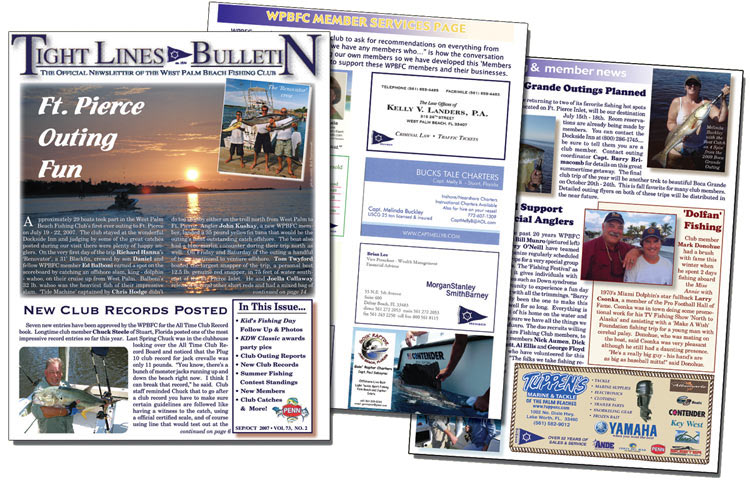 Nearly every WPBFC fishing tournament and angling program features sponsorship opportunities at varied levels. Cash and/or product sponsorships are offered with most events. Some of our sponsors have been 'on board' for decades and have been effective at increasing their customer base and establishing brand loyalty among our membership. In addition to specific event sponsorships, year around sponsorship opportunities are also available for those interested in repeated exposure at monthly WPBFC meetings and regularly scheduled club outings. Sponsorship packages for any one of the following events or areas are offered:
Year Around Product Sponsorship (club outings, meetings & angling contests)
For more details, contact the WPBFC at (561) 832-6780 or by email at wpbfc@westpalmbeachfishingclub.org to request a specific event sponsorship package or to find out which program or event best matches your product or service. Thank you for your interest!
Advertising
The WPBFC publishes a newsletter style magazine annually, which offers advertising opportunity. The award winning Tight Lines Bulletin is distributed by mail to over 1,800 fishing club members and affiliates. Hundreds of additional copies are distributed to local tackle shops, marine businesses and are included in informational packets direct mailed by the Fishing Club. A significant discount on business card sized ads in the 'Member Services' section of the bulletin is offered to all WPBFC members in good standing.